Mauritius > Port Louis Overview
The capital of the island of Mauritius is a town full of character and slightly faded elegance, set prettily within an amphitheatre of mountains at the midpoint of the western coastline. Port Louis is a noisy, bustling town with a charm all of its own.
Reminiscent of its multi-faceted colonial history, the city boasts some fine French buildings dating from the 18th century, both an Anglican and a Catholic cathedral, a mosque, and a fortified citadel, known as Fort Adelaide. The fort is the best place from which to enjoy a panoramic view of the town, harbour, and famous racecourse (which was once a French military parade ground, and became the first racecourse in the southern hemisphere).
It may be the capital, but Port Louis is not home to the vast majority of Mauritians; the main residential areas are in the cooler, wetter highlands inland. However, Port Louis is the gateway to the prime beaches and resorts of the Mauritian coast, including Flic en Flac and Grand Baie. Although the reason most people visit Mauritius is for sun and sea, the capital city has some interesting museums and entertaining excursions to offer for those who choose to make it their base for exploring the rest of the island.
Sightseeing & Attractions
Sightseeing
Port Louis boasts some fantastic attractions to keep tourists off the beaches, offering lots to see and do away from the sand and sea.
One of the most popular spots to visit is the Champs de Mars racecourse, which is one of the oldest in the world, having celebrated its first race in 1812. A day at the horse races is wonderful fun when staying in Port Louis.
The Blue Penny Museum is the cultural and historical highlight of the Caudan Waterfront and contains two of the oldest and rarest postage stamps in the world; this attraction will only be of interest to serious culture vultures, but it is a well-organised and interesting attraction.
The town also offers a plethora of shopping opportunities, including malls, street-side shops, and vendors, as well as bustling markets. Within the crush of the busy Port Louis Central Market, visitors can buy all sorts of treasures, making it a definite win for shopaholics.
A stroll and picnic in the Royal Botanical Gardens of Pamplemousses is also something to do in town, and there are some worthwhile inland excursions from the city, such as a trip to the old sugar cane estate of Domaine Les Pailles.
And then, of course, there are the beaches. The tourist hubs of Grand Baie and Flic en Flac, with their long white beaches, calm waters, and coral reefs are close to Port Louis and are a great favourite with visitors.
Travellers in Port Louis will find themselves getting around a lot of the town by foot, as none of the distances are too great. Taxis are readily available and efficient, and are easily recognisable by their yellow signs. Car rental agencies such as Hertz can be found throughout the town for visitors wanting to explore the island themselves.
Attractions
Port Louis Central Market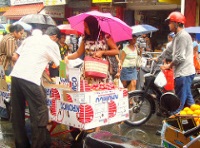 The diversity of the Mauritian population is never more obvious than during a visit to the lively, bustling and colourful Central Market in Port Louis, accessed from Farquhar Street, near the harbour. When visitors enter they should note the intricate ironwork on the gates, erected in 1844, and dedicated to Queen Victoria. Inside the market they will find a whirl of Muslim traders, swarthy Indian touts, Chinese and Creoles, all demanding attention as they offer their wares. Shoppers can buy almost anything in the market, including fresh produce, clothes, crafts, art and souvenirs. Textiles, carved wooden figurines, essential oils and spices are all good buys.
Blue Penny Museum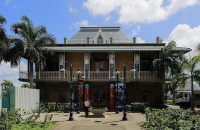 The lively Caudan Waterfront in Port Louis features the Blue Penny Museum, which is primarily devoted to Mauritian art and history, but whose place of pride is given to two of the rarest stamps in the world: the Mauritian 1847 'Post Office' Penny Red and Twopence Blue, estimated to be worth more than US$1 million apiece. Mauritius was the fifth country in the world to begin issuing postage stamps, back in 1847, and some of the few remaining early island stamps are now highly valued around the world. Tours of the museum are available and take between 30 and 90 minutes.
Royal Botanical Gardens of Pamplemousses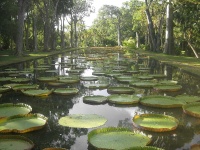 The Pamplemousses Gardens are one of the island's premier tourist attractions and are easily reached by regular buses from Port Louis. Officially called the Sir Seewoosagur Ramgoolam Botanical Gardens in honour of the late Prime Minister, they are enclosed by beautiful wrought iron railings which are today in disrepair but, when first manufactured in 1862, won a prize at an international exhibition at Crystal Palace in London. The gardens were first laid out in 1735 around a mansion house called Mon Plaisir as a vegetable garden to supply ships calling at Port Louis. Later the house was bought by horticulturalist Pierre Poivre, who introduced plant species from around the world interspersed with indigenous species.
Beaches in Mauritius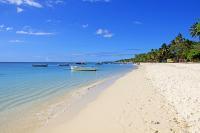 The beaches of Mauritius are close to perfect, with fine white sand and clear water running to heavenly shades of blue. Some of the island's best beaches are on the west coast, and are easily reached from Port Louis. Flic en Flac is the longest beach in Mauritius and features a beautiful lagoon. Grand Baie, 12 miles (20km) to the north of the capital, is a major tourist centre, offering watersports, shops, nightlife, and restaurants to complement its splendid beach and deep sheltered bay. Roche Noires is an east coast favourite, named for the dramatic black volcanic rocks that line the water. The east coast is great for sailing.
Domaine Les Pailles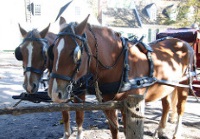 A short taxi ride to the south of Port Louis is the Domaine Les Pailles cultural centre and nature park, covering more than 1,500 hectares (3,707 acres) in the foothills of the Moka Mountains and offering plenty of entertainment for visitors. The centre was once a sugar cane estate and some of the 18th-century features can still be seen. Activities include horse-drawn carriage and train rides, viewing a working replica of an ox-powered sugar mill, a rum distillery museum, exploring a herb garden and natural spring, and adventure safaris into the mountains in 4x4 vehicles.
Casela Park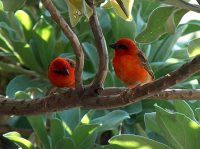 Home to nearly 150 species of birds, including ostriches and flamingos, Casela Park is a paradise for bird watching in Mauritius. The park opened in 1979, and is home to many other kinds of animals as well, including zebras, giant tortoises, lions, monkeys, cheetahs, tigers, and various antelope. There are several different ways to explore the 14-hectare grounds of Casela, and visitors will enjoy exciting modes of transportation such as ziplines, segways, quad bikes, and hanging bridges. The park is very family-friendly and there are programmes for kids and teenagers, as well as a petting farm and restaurant.
Ile Aux Cerfs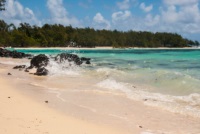 The small island of Ile aux Cerfs (Stag Island), off the east coast of Mauritius, is one of the country's most popular tourist destinations, managed by the adjacent Touessrok Hotel, but open to the public. The island, featuring splendid tropical vegetation and encircled by magnificent sandy beaches, can be reached by boat from the small fishing village of Trou d'eau Douce. The boat trip only takes about 15 minutes. The island is equipped with a number of bars, restaurant, and shops, as well as watersports facilities including parasailing, waterskiing, windsurfing, and glass-bottomed boat trips.
Black River Gorges National Park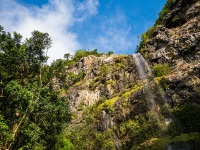 Situated in the southwest of the island, the Black River Gorges National Park is a popular spot for picnics, hiking and scenic drives. The park encompasses thick pine forests, gorges and rugged mountains and is a sanctuary for local flora and fauna. In fact, the park protects much of the island's remaining rainforest and some of Mauritius's endemic species, including the Mauritian flying fox. Bird-watchers will love the park and should look out for the Mauritius kestrel, the green echo parakeet and the Mauritius cuckoo shrike. The park's Chamarel Waterfalls are the highest in Mauritius at 83m (270ft) and are best seen after heavy rains.
La Vanille Reserve des Mascareigne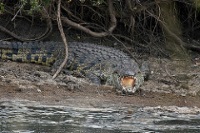 La Vanille Reserve des Mascareigne is a nature reserve in the unspoilt south of Mauritius, best known for its thousands of crocodiles and giant tortoises, which they are helping reintroduce to the island of Rodrigues. Reptiles in the park include Nile crocodiles, iguanas, caimans, geckos, chameleons, and tortoises, and there are also monkeys, bats, mongooses, wild boars, and some domestic farm animals for children to meet. The park boasts a huge population of butterflies and an insectarium as well. Many of the animals are kept in enclosures and cages, making it more of a zoo than a nature reserve, but the animals seem well cared for and the breeding programmes are for conservation purposes.
Souillac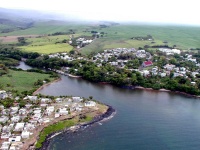 The small seaside resort of Souillac is situated along the rugged coast in the southern Savanne district. The appeal of Souillac lies in its scenery, as it is not a bathing spot. In striking contrast to the soft curves of the northern coastline, the high cliffs here drop abruptly to the sea to face the bracing winds of the Indian Ocean, which seem to blows all year round. The dramatic Gris-Gris cliffs are constantly smashed by waves (they are called the weeping cliffs, Roche qui Pleure, as a result) and tourists flock to the area to enjoy the rugged coastline.
Seven Coloured Earth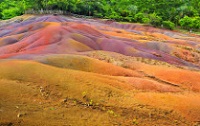 Promoted as Mauritius' first attraction back in the 1960s and located on the island of Chamarel, the Seven Coloured Earth is a magical sight and still quite a mysterious phenomenon. The Seven Coloured Earth is a geological formation of sand dunes comprised of seven distinct colours that give the rolling dunes a fantastical, psychedelic look. The colours are usually defined as red, brown, violet, green, blue, purple, and yellow. These warm colours are all the more striking in contrast to the bright green of the surrounding forest. The dunes are also interesting in that they never seem to erode, despite the tropical storms that lash the region.
Rodrigues Island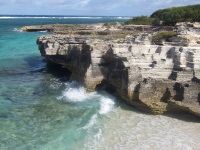 Sometimes called the 'Cinderella of the Mascarenes', Rodrigues is a tiny island roughly 348 miles (560km) east of Mauritius, and a popular excursion from there. The island is volcanic in origin and is surrounded by stunning coral reef; there are some even smaller, uninhabited islands off the coast. The reef that fringes Rodrigues forms a calm lagoon, which shelters the inlets and beaches of the island and creates wonderful conditions for swimming and snorkelling. There are some glorious little beaches to lounge on. Less touristy than the resort towns of Mauritius, Rodrigues Island offers visitors a glimpse of a simpler and more authentic way of life.
Ganga Talao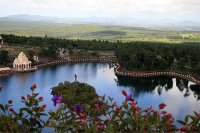 Located in a secluded mountain area in the district of Savanne, and bordering a national park, Ganga Talao (or Grand Bassin) is a crater lake considered to be the most sacred Hindu site in Mauritius. According to legend, Lord Shiva and his wife Parvati were travelling over Mauritius carrying the Ganges River, and a few drops spilled and formed Ganga Talao. On the shores of the lake is a temple dedicated to Shiva, and a number of other shrines, and every year many Hindus from around Mauritius make a pilgrimage to the site, often walking barefoot from wherever they live.
Climate
Jan
Feb
Mar
Apr
May
Jun
Jul
Aug
Sep
Oct
Nov
Dec
Rain (cm)
216
198
221
127
97
66
58
64
36
41
46
117
Rain (inches)
8.5
7.8
8.7
5
3.82
2.6
2.28
2.52
1.42
1.61
1.81
4.61
Average Temperature (°C)
27
26
26
25
23
21
21
21
21
23
24
26
Min Temperature (°C)
23
23
22
21
19
17
17
17
17
18
19
22
Max Temperature (°C)
30
29
29
28
26
24
24
24
25
27
28
29
Average Temperature (°F)
80.6
78.8
78.8
77
73.4
69.8
69.8
69.8
69.8
73.4
75.2
78.8
Min Temperature (°F)
73
73
72
70
66
63
63
63
63
64
66
72
Max Temperature (°F)
86
84
84
82
79
75
75
75
77
81
82
84
Mauritius International
The airport is 26 nautical miles (48km) southeast of Port Louis.
Tel: +230 603 8000.
mauritius-airport.atol.aero
Facilities
The airport has a currency exchange office and banks. There are duty-free shops in the arrival and departure lounges, and various other shops. There is a spa, post office, a children's corner, and a variety of restaurants and bars.
Car Parking
The airport has a currency exchange office and banks. There are duty-free shops in the arrival and departure lounges, and various other shops. There is a spa, post office, a children's corner, and a variety of restaurants and bars.
Car Rental
Car hire companies Budget, Europcar, and Hertz are represented at the airport.
Taxis
Taxis wait outside the terminal, and the journey into Port Louis takes around 45 minutes.
Transfer City
There are three bus services that operate to and from SSR International Airport: Bus 09, Bus 10, and Bus 198. Buses are fairly frequent but the journey takes over an hour to most major destinations on the island; passengers should factor this in to their travel time. Taxis are also available.
See map bigger