Spain > Tenerife Overview
If there is any spot on the globe that enjoys a perfect climate, Tenerife in the Canary Islands might just be it. There is markedly little variation in the average temperatures between summer and winter, and there is only very occasional rain. Add to this landscapes of verdant forests, mountains, deserts, volcanoes, exotic plant and animal life, and spectacular beaches (with black volcanic sand) and travellers have a true holiday paradise.
Tenerife offers the unique experience of swimming and sunbathing on a beautiful beach while just a few miles away snow sparkles on the crest of Mount Teide. The island's central mountain stands at 12,200 feet (3,719m), the highest in Spain, and a cable-car ride to the summit offers unrivalled views of the lunar-like landscape of the volcanic slopes in the UNESCO-listed Teide National Park.
The island's capital, Santa Cruz de Tenerife, is an upbeat town geared towards tourism. Its port, where once the first shots of the Spanish Civil War were fired, is today a morass of ferries, jetfoils, and freighters ready to take visitors on various cruises and ocean adventures. Other picturesque towns worth visiting on this picturesque island include Garachico, La Orotava, and Masca, all of which have much to offer travellers.
Getting Around
The bus service is run by Titsa and is operational all over the island, as well as within Santa Cruz and other towns. Holidaymakers using the bus frequently should purchase a Bono card. Travellers can take a taxi anywhere on the island, but it is an expensive way to get around; hiring a car is a convenient and more cost-effective transport solution. Car rental outlets are available at the airport and major resorts in Tenerife, and same-day rentals shouldn't be a problem.
Nightlife
Tenerife is famous for its raucous and varied nightlife, ranging from Ibiza-style nightclubs and boozy karaoke joints, to authentic Spanish tapas venues and bars playing great live music or hosting traditional dance performances. Venues tend to stay open as late the clientele wish, and the prices of drinks and dinner compare extremely well against mainland Europe.
The best nightlife on Tenerife is concentrated in the south of the island around Playa de las Americas. There are three main areas to explore in this resort: Veronicas, the Patch, and Starco Commercial Centre, each of which are densely packed with clubs (many of which are open 24 hours), bars, and English-style pubs. Most bars are child friendly and serve decent food.
The most famous club in Playa de las Americas is Tramps, in the Starco complex, regularly attracting top DJs for epic parties. Nearby Los Cristianos is a better bet for quieter bars and restaurants, and is consequently more popular with families with young children. In the north of the island Santa Cruz and Puerto de la Cruz have a good variety of nightlife venues but lack the concentration of clubs in the south.
Casinos are another popular way to enjoy a night out in Tenerife. There are three to choose from: Casino de Taoro in Puerto de la Cruz, Casino Santa Cruz in Hotel Mencey in Santa Cruz, and the Playa de las Americas Casino in the Gran Tenerife Hotel.
A popular family night out is the Medieval dinner show at Castillo San Miguel, which has jousting, horse and sword feats, and bawdy serving wenches. For some more traditional Spanish entertainment, travellers shouldn't miss the Flamenco performances at the Pyramid de Arona Auditorium at Playa de las Americas, and the cabaret and dancing on display at the Palace Show in Playa de las Americas.
Shopping
Tenerife is well prepared for shoppers, with plenty of supermarkets in the larger towns providing all basics and foodstuffs for self-catering tourists, and plenty of markets and smaller shops all around the island for gifts and bargains.
The best shopping is in Santa Cruz, particularly on Calle Castillo, where all the fashion stores are. There is also a mega-mall, Meridiano on Avenida La Salle, and the enormous department store of El Corte Ingles. Just outside of town is the enormous Carrefour hypermarket.
Most of the resorts and small towns have weekly markets. The huge Sunday market in Los Cristianos is a fleamarket extravaganza selling everything under the sun. In Santa Cruz, the African market is well worth exploring, with 300 stores selling fresh produce and interesting curios. On Sundays the area around the market becomes the El Rastro Flea Market, a good place to pick-up quality handicrafts and bargain souvenirs. Golf del Sur has a good market near the marina on Friday mornings; Los Abrigos puts on a decent night market every Tuesday evening; while Guaza has recently begun hosting a Sunday fleamarket.
Best buys in Tenerife, apart from booze and cigarettes, are the award-winning local cheeses and honey, leather goods such as shoes and belts, and turrón, the almonds and honey confection available around the festive season. Travellers should avoid shopping at the airport where prices tend to be significantly inflated, and note that if they pay via debit or credit card, they will need to show their passport. Many shops still observe the very sensible custom of closing over siesta (1.30 to 4.30pm) and will close all day Sunday.
Sightseeing & Attractions
Sightseeing
Tenerife's main attraction is its ideal weather, which offers warm sunny days all year round and allows visitors to enjoy the beautiful beaches in all seasons. There are plenty of great beaches, lively resorts, charming ports and villages, and even a volcano to explore in the centre of the island.
Water sports are another popular attraction: windsurfers and kite surfers will enjoy the strong winds of the east coast, while surfers have perfect conditions in the south of the island. For the kids, there are numerous theme parks and water parks that guarantee a cooling day out for the whole family.
Getting around Tenerife for sightseeing excursions or days of beach hopping is easy; almost every attraction on the island can be reached in under an hour by bus. There are plenty of metered taxis available in the resorts and a good, cheap bus service operates around the resorts and between all the main towns on the island. Local car rental companies have offices in all the main resorts and are good value and popular with those wanting to explore the north of the island.
Attractions
Teide National Park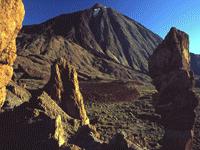 The spectacular Parque Nacional de las Canadas del Teide was declared a protected area in 1954 and includes an enormous volcanic crater with a circumference of 30 miles (48km), out of which rises the highest peak in Spain, Mount Teide. It is the largest, one of the oldest, and the most visited national park in Spain and has been declared a UNESCO World Heritage Site. Since 2007, it has also been one of the 12 Treasures of Spain. In contrast to the coastal regions of Tenerife, the temperatures in the reserve can be extreme: winter in the park, which lies at about 6,562ft (2,000m) above sea level, brings snowfall and gale force winds, while in summer temperatures can soar to above 104F (40C).
Piramides de Guimar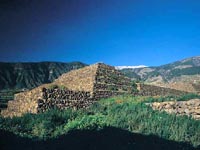 On the east coast of Tenerife, south of Santa Cruz, stand six mysterious step pyramids of which archaeologists have yet to discern the origin. The pyramids were initially thought to be the remains of agricultural stone terraces, or random piles of stone cleared from fields by early Spanish settlers. However, Thor Heyerdahl, the Norwegian anthropologist who lived in Guimar on Tenerife until his death in 2002, thought differently. His research indicated that the pyramids were constructed on similar principles to those in Mexico, Peru and ancient Mesopotamia. The pyramids are now enclosed in an Ethnographic Park; the site includes a museum, life-size replica of Heyerdahl's reed ship Kontiki, a cafeteria, and souvenir shop.
La Orotava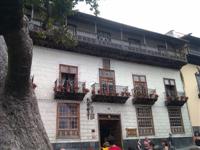 The beautiful town of La Orotava is firm proof that there is much more to Tenerife than lovely beaches and a fun nightlife. Known for its aristocratic heritage and exceptional architecture, La Orotava is famous for its ornate balconies, many of which are concentrated on Casa de los Balcones. The town was settled by noble families in the aftermath of the Spanish conquest and they set about a flourish of competitive building, a legacy that modern-day visitors can enjoy at their leisure. The west of the island was home to Tenerife's nobility who built many fine houses. There are many churches and monasteries here too. La Orotava is beautifully situated, with volcanic black beaches and mountains that encourage hiking and other outdoor activities.
Climate
Tenerife has a wonderful climate; the average temperature is comfortable all year round. The cooling sea breeze ensures that there is little humidity and that the summer heat is bearable. During winter, between December and February, the evenings get cooler and the water temperatures drop, but it is never cold by European standards.
The coldest month, January, experiences average temperatures between 59°F (15°C ) and 68°F (20°C) and August, the hottest month, experiences average temperatures between 70°F (21°C) and 84°F (29°C). Rainfall in the summer months is almost non-existent, but showers are possible between October and April. The rain showers are usually short-lived and quickly replaced by sunshine.
There are, however, distinct climate variations according to region on Tenerife: inland, particularly around Teide National Park, temperatures can drop far lower, so travellers should dress for cool evenings and rainfall (or perhaps even snow) if exploring the high altitudes around the interior of the island.
The most popular time to visit Tenerife is in the summer months of May to September, when it is hot and dry, but the beaches can be enjoyed year round (although the sea may be too cold for swimming).
Jan
Feb
Mar
Apr
May
Jun
Jul
Aug
Sep
Oct
Nov
Dec
Rain (cm)
36
39
27
13
6
0
0
0
3
31
45
51
Rain (inches)
1.4
1.5
1.1
0.5
0.2
0
0
0
0.1
1.2
1.8
2
Average Temperature (°C)
17
18
19
19
21
23.5
25
25
24.5
23.5
21
18
Min Temperature (°C)
14
15
16
16
18
19
21
21
21
20
18
16
Max Temperature (°C)
20
21
22
22
24
28
29
29
28
27
24
20
Average Temperature (°F)
63
64
65
67
69
73
75
77
77
73
69
65
Min Temperature (°F)
59
59
61
61
64
66
70
70
70
68
64
61
Max Temperature (°F)
68
70
71
71
74
82
84
88
82
79
73
69
Tenerife South Airport
The airport is situated in the south of Tenerife, close to west coast resorts, and 35 miles (56km) southwest of Santa Cruz.
Tel: +34 09 22 759 200, +34 09 02 404 704
www.aena.es
Facilities
Facilities at the airport include restaurants, bars, shops, ATMs, a bank, post office, children's play area and currency exchange facilities. Disabled facilities are adequate; those with special needs are advised to contact their airline or travel agent in advance.
Car Parking
Facilities at the airport include restaurants, bars, shops, ATMs, a bank, post office, children's play area and currency exchange facilities. Disabled facilities are adequate; those with special needs are advised to contact their airline or travel agent in advance.
Car Rental
Car rental companies represented at the airport include Avis, Hertz, Europcar, Cicar and Goldcar.
Taxis
The taxi services are located on the ground floor just outside arrivals hall terminal exit.
Transfer City
Most tour operators arrange transport from the airport. For those that don't, there are regular buses to Santa Cruz, Los Cristianos and other towns and resorts on the island. Taxis are also available.
Departure Tax
None.
Tenerife North Airport
The airport is in San Cristóbal de La Laguna, nearly seven miles (11km) from Santa Cruz.
+34 91 321 10 00
www.aena.es
Facilities
The terminal contains duty-free shopping, several restaurants, ATMs, a bank, a VIP lounge, and a business centre for conferences and meetings.
Car Parking
The terminal contains duty-free shopping, several restaurants, ATMs, a bank, a VIP lounge, and a business centre for conferences and meetings.
Car Rental
Avis, Europcar, AutosReisen, Cicar and Hertz operate car hire facilities at Tenerife North Airport.
Taxis
Taxis are located outside the terminal. There is a €1.70 airport supplement, and the average fare to Santa Cruz is around €18.
Transfer City
Bus route 343 runs between the airport, Santa Cruz, Puerto de la Cruz and Costa Adeje (Los Cristianos). The airport bus stop is located outside the arrivals area on the ground floor and costs from €3.70 to around €13.55 depending on the destination. Bus routes 108, 107, 104 and 102 connect the airport to other parts of the island.
See map bigger
Getting out and about
Loro Parque from £29 per person
Loro Parque in Tenerife is a unique 'must-see' attraction. With more than 3,000 parrots of 300 species. But Loro Parque is not just about these intelligent exotic birds, it's also home to dolphins, sea lions, orcas, the biggest penguinarium of the world, chimpanzees, sharks, tigers, alligators and the first ever bachelor group of gorillas in the world.
Siam Park Waterpark from £29 inc 5 Euro Voucher per person
Set amongst nearly 18 hectares of lush tropical greenery in the south of Tenerife, Siam Park is themed on the ancient kingdom of Thailand.