United States of America > Chicago Overview
Chicago is the major metropolis of America's heartland in northern Illinois. Around three million people live and thrive in a city of skyscrapers that appears to rise straight out of the waters of Lake Michigan.
Once a gangster's paradise, home to Al Capone and Bonnie and Clyde, the 'Windy City' today has a reputation as an international business and commercial capital with an eclectic mix of architecture, world-class theatre and art exhibitions, a fantastic local music scene, and thriving sports scene.
Chicago emerged after being destroyed in the Great Fire of 1871, when a large influx of immigrants in the early 20th century infused the city with diversity and the unmistakable sound of Chicago-style blues music. It now boasts soaring skyscrapers such as Willis Tower (formerly the Sears Tower), colourful neighbourhoods, a lakefront business district, a re-energised downtown district, unbeatable shopping along the famed Michigan Avenue, and top-class sports teams.
One thing that does not attract visitors to Chicago is the weather; the city's geographical location means it is breezy at best, and freezing and gale-ridden at worst. It is possible to ignore the weather though, especially in summer, while getting caught up in the myriad things to do, see, and experience in this Midwestern metropolis.
Getting Around
Chicago has one of the largest public transportation systems in the country and getting around the city is fast and easy with an extensive network of train and bus routes. The train system is known as the 'L'; most visitors only use the 'L', but buses also cover every part of the city including the suburbs, albeit less regularly. Most trains run 24 hours a day, with Overnight or Night Owl services taking over between midnight and 5am on some lines.
The Metra commuter trains link the city to the outer suburbs, including Lake Michigan, Hyde Park, and McCormick Place. During the summer months, a free trolley system operates in the downtown area, connecting Chicago's top cultural attractions, shopping areas, and visitor destinations. Taxis are easy to find, and the metered rates are reasonable for short journeys. Although traffic is not as bad as in other major cities (outside rush hour), parking is expensive and difficult to find. Uber and Lyft are also available.
Restaurants & Nightlife
Restaurants
}

It has been estimated that there are more than 6,000 restaurants in Chicago, representing just about every cuisine across every price range imaginable. Visitors can experience eating an authentic Ethiopian meal or a true south Goan curry under the shadow of the Willis Tower.

While the city offers everything from haute cuisine to hotdogs with all the trimmings, its true specialty is the world-famous deep-dish pizza, invented at Pizzeria Uno in 1943, and now available throughout the city (though still served at its birthplace).

Chicago has been steadily earning a reputation as one of the cuisine capitals of America, with its concentration of award-winning chefs and highly acclaimed fine dining establishments. Around 25 restaurants in Chicago have earned Michelin stars, proving just how much fodder is available for discerning foodies. Top areas for dining include trendy Lincoln Park, Chinatown, Little Italy and Pilsen, a Mexican neighbourhood.
Nightlife
Chicago's unassuming nightlife scene comes as a refreshing change to some other big US cities. Most locals prefer to stay close to what they know and hang out at their local watering hole. However, Chicago still has its fair share of trendy bars, clubs, and cocktail lounges.
Popular areas for nightclubs, bars, and music venues include Lincoln Park, Wicker Park, and Lakeview, where revellers can find music clubs devoted to just about every genre, from R&B and jazz to alternative rock and indie. The city's waterfront nightlife is popular with residents and tourists alike, while the piano bar at The Drake Hotel is a local favourite.
Wells Street in the Old Town offers some great restaurants and bars as well as the popular Zanies Comedy Club. Chicago's gay scene is concentrated on a stretch of North Halsted Street in Lakeview, where men's bars dominate the strip.
The birthplace of house music in the 1980s, Chicago has plenty of clubs full of 20-somethings dancing to the latest offerings of the resident DJ. Many of these types of clubs pop up and disappear at a dizzying rate, while others have been around for decades.
The culture scene in Chicago is bustling with shows and plays running throughout the year at renowned Chicago theatre companies, such as the Steppenwolf Theatre Company, the Goodman Theatre, and the Victory Gardens Theater.
Broadway-style entertainment can be found at the CIBC Theatre and the Cadillac Palace Theater. For lovers of classical music, a visit to Symphony Center to hear the Chicago Symphony Orchestra perform is an absolute must.
Shopping
The Magnificent Mile on Michigan Avenue lies along an eight-block stretch, and has more than 460 stores that offer luxury items and fashion bargains to suit most budgets. There are also lovely restaurants and cafes aplenty to provide exhausted shoppers with refreshment. Another area worth exploring is Oak Street, which provides a renowned concentration of designers and salons.
Chicago is equally famous for its art and antiques dealers, which are congregated around the River North Gallery District. There are also good markets, some of which sell antiques. Visitors who head out on Sunday mornings shouldn't miss the Maxwell Street Market, which boasts more than 500 stalls selling everything under the sun. It's best to get there early and to bargain.
Malls and department stores in Chicago are generally open from 10am to 9pm Monday to Saturday; and 12pm to 6pm on Sundays. A sales tax of about 10 percent (the highest sales tax of any large city in the US) is levied on most products and is added at point of purchase, not on the price tag.
Sightseeing & Attractions
Sightseeing
What this city lacks in New York bravado and LA style, Chicago makes up for in the astonishing variety of its architecture, vibrant culture, and thriving art scene, all of which are highlighted by the Art Institute of Chicago. It is also a truly family-friendly destination, with world-class attractions such as the Field Museum and Shedd Aquarium to delight the whole family.
With so much to see, it's worth getting a sense of perspective from the start. Travellers can visit the 360 Chicago or the Willis Tower Skydeck for views of the city from breathtakingly high up. Then they can check out Navy Pier for a 3D motion simulation of Chicago's fascinating history and exciting future. Afterwards, they can hop on a boat tour departing from the adjoining pier to explore the waterfront area.
A good option for visitors is the Go City card, which gives discounted admission to all the city's key attractions, shopping and dining discounts, various free tours, and a guide book. A Go City card also allows visitors to skip some long queues, which can be useful in peak season. The card is available from a number of tour operators or online.
Kids Attractions
At first glance, the Windy City may not seem like a destination that caters well to little ones, but families on holiday in Chicago will find there are more than enough attractions and activities to keep kids busy.
On clear days, visitors can enjoy the panoramic views over the city from atop the iconic Willis Tower or the observatory atop 875 North Michigan Avenue. They can also enjoy a stroll through Lincoln Park or the Chicago Botanic Gardens if the sun is out.
The Navy Pier is a great place to walk along the docks and enjoy the spectacular views from the Ferris wheel and funfair rides. For larger scale amusement park fun, the renowned Six Flags Great America is on hand.
In inclement weather, unfortunately common in Chicago, parents should consider visiting one of the high-quality indoor playgrounds in the city. There are also several wonderful museums geared specifically towards children, such as the Chicago Children's Museum. With so many attractions on offer, children on holiday in Chicago will be just as enchanted with this city as their parents.
Attractions
Art Institute of Chicago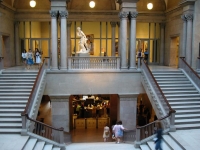 An impressive pair of bronze lions guards the entrance to the Art Institute of Chicago, a museum which houses one of the greatest art collections in the world. Works date from 3,000 BC through to the present, including a renowned collection of Impressionist art featuring numerous Monet paintings. The Institute has it all, from Japanese ukiyo-e prints and ancient Egyptian bronzes to masterpieces of 20th-century sculpture. Exhibits include paintings, drawings, photographs, textiles, sculptures, and architectural works. As if the permanent collection isn't enough to occupy visitors, an impressive programme of temporary and travelling exhibitions graces the museum. The Institute has three restaurants as well as a gift shop.
Chicago Field Museum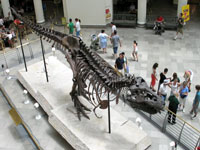 Chicago's wildly popular Field Museum of Natural History in Lake Shore Drive is home to 'Sue', the largest and most complete Tyrannosaurus Rex fossil ever found. The dinosaur came to rest here after being unearthed in South Dakota when the museum bought her remains for more than $8 million. Sue is just one of the draws to the museum. It offers other marvels such as getting a bug's eye view in an underground adventure; descending into an Egyptian tomb; watching a glowing lava flow; and getting up close and personal with the man-eating lions of Tsavo. The museum specialises in interactive and diorama-type exhibits across its nine acres of exhibition space, and is a must-visit for families on holiday in Chicago.
Frank Lloyd Wright's Home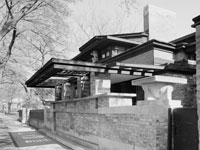 America's most renowned architect lived and worked in this complex, which served as private studio and architectural laboratory for the first twenty years of his career. Wright's haven started out as a simple cottage and was continually added on to by the architect, resulting in unusual features such as a balcony suspended on chains. The complex is administered by the Frank Lloyd Wright Preservation Trust, which offers guided tours. The neighbourhood of Oak Park contains the world's largest concentration of Wright-designed buildings. Self-guided exterior audio tours of the 26 structures in the area are available.
Lincoln Park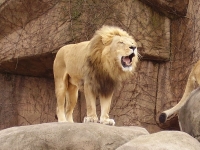 Lincoln Park, beginning at North Avenue and following the shore of Lake Michigan northwards, is Chicago's largest park. It contains many things to see and do, such as beaches, a botanical conservatory, a golf course, grassy meadows, formal gardens, and sports fields. Pride of place is held by the standing statue of Abraham Lincoln, sculpted by Augustus Saint-Gaudens. His sitting Lincoln is in Chicago's other famous green lung, Grant Park. The most popular attraction within the park is the Lincoln Park Zoo, which not only houses hundreds of exotic animals, but offers experiences such as paddle boat rides, a virtual safari trip, and the Endangered Species Carousel with 48 artisan-crafted wooden animals that accommodates 50 riders at a time.
Six Flags Great America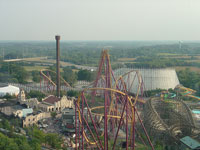 Top of the list of attractions for families on holiday in Chicago is the Six Flags Great America. Featuring some of the country's most exciting theme park rides, such as the Dark Knight Coaster, the American Eagle, and the Condor, the Six Flags Great America Park is a great way to spend the day. The kids will love meeting their favourite comic book superheroes and cartoon characters. Visitors can also cool off on a hot day with the rides at Hurricane Harbor, the attached water park. The amusement park can easily occupy the whole family for a day, with numerous restaurants and snack bars for refreshments and some live entertainment on offer.
Shedd Aquarium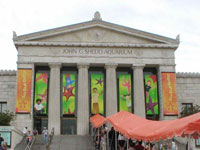 One of Chicago's best known attractions, the Shedd remains one of the world's largest indoor aquariums since its opening in 1930. The octagonal marble building houses more than 8,000 river, lake, and sea creatures. The main attraction is the Caribbean Coral Reef exhibit and other marine habitat recreations of the Amazon basin, the rugged Pacific Northwest coast, and the Great Lakes. Animals in the Shedd include otters, penguins, whales, sharks, sea turtles, and much more. The aquarium also features an indoor saltwater Oceanarium housing marine mammals; dolphin shows are scheduled there daily.
Rockford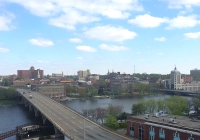 Illinois' second city, Rockford, set in rolling hills, is just northwest of Chicago. It is worth a visit for culture vultures and golfers in particular. The city is known for its 'cultural corridor' of which the highlight is the Rockford Art Museum's stunning permanent collection focusing on 19th and 20th century works. There is also a wealth of private galleries and historical museums in the city centre. Rockford is known for its antique shops and markets, and many golf courses.
Navy Pier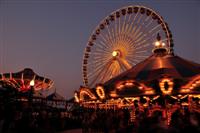 Situated on Chicago's lakefront, Navy Pier has developed into one of the city's main tourist destinations, offering year-round attractions, events, and entertainment for the whole family. Navy Pier encompasses acres of parks and gardens, shops, and restaurants, as well as serving as an embarkation point for tour and excursion boats. Its 150ft (46m) Ferris wheel attracts more than eight million people a year. The Chicago Children's Museum is another of its attractions. Special temporary attractions and events are offered throughout the year.
Willis Tower (Sears Tower)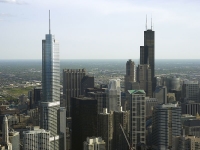 'You haven't seen Chicago until you've seen it from the Skydeck' is what many visitors will hear from locals and other tourists in the city. The iconic Sears Tower was renamed on 16 July 2009 to the 'Willis Tower', but the old name is still commonly used. Located on its 103rd floor, the Skydeck is 1,353 feet (412m) above street level and one of Chicago's most famous tourist attractions. Elevators whisk visitors up to the observation deck, where the views stretch out across the city and Lake Michigan, and as far as neighbouring states on a clear day. The Skydeck is completely transparent, so that visitors look straight down through the floor. Inside, there are some interactive exhibits and computer information terminals for a tour of the city's landmarks. The Willis Tower, standing at 110 storeys high, is one of the tallest buildings in North America and one of the tallest in the world.
Millennium Park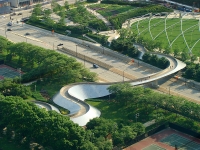 Millennium Park is one of Chicago's most popular destinations and is seen by Chicagoans as the crowning glory of their city. The award-winning park is famous for its innovative architecture and landscape design, featuring the work of several prominent artists, architects, and designers. The park's most outstanding feature is the state-of-the-art outdoor concert venue, the Jay Pritzker Pavilion, which seats more than 4,000 people and hosts regular concerts. Another fascinating piece of architecture is the polished stainless steel Cloud Gate, shaped like a 66-foot (20m) long bean with a 12-foot (4m) high archway. Other interesting features include the Crown Fountain, the Lurie Garden, BP Bridge, and the Millennium Monument. Visitors can also enjoy changing exhibitions, local art works, and ice skating in winter.
Adler Planetarium and Astronomy Museum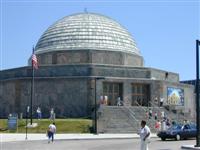 Located on Lake Michigan, the Adler Planetarium is America's oldest planetarium and boasts a number of theatres. Inside its doors, visitors and locals alike have marvelled at the heavens since 1930. There are also numerous exhibits at the Adler, from design labs to ancient astronomy, the interactive Mission Moon experience to an engaging walk through the history of the cosmos. The Adler hosts many special lectures and events and a visit is an absolute must for stargazers. It is a good family attraction in Chicago as the shows enchant all age groups and much of the programme is carefully designed for children.
360 Chicago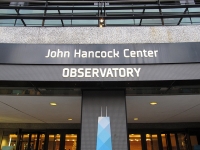 Formerly known as the John Hancock Building, 875 North Michigan Avenue is Chicago's third highest skyscraper. Located on the 94th floor, 1,000 feet (305m) above street level, the 360 Chicago Observatory is the city's only open-air skywalk, with 360-degree views, a talking telescope, audio Skytours that provide an overview of the city with 16 stops, and the History Wall, with hundreds of photos illustrating Chicago's history. An annual 'Hustle Chicago' (formerly 'Hustle up the Hancock') stair climb race up the 94 floors is held every February. With a distinctive x-bracing exterior skin, its observatory competes with the facilities of the Willis Tower across town in the Financial District.
Chicago Children's Museum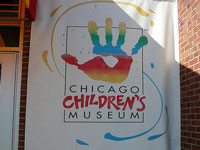 The Chicago Children's Museum is a must for kids of all ages. Located on Navy Pier, the museum offers three storeys of interactive exhibits with plenty of hands-on fun. The main attraction at the museum is the three-storey tall replica of an 1850s Schooner, which is a huge climbing course. The 'Tinkering Lab', 'Waterways', and Dinosaur attractions are also highly popular with the little ones. Kids can play in anything from tree houses to model skyscrapers and furniture forts, and there are endless toys. Older kids will enjoy the organised craft activities and building workstations. Exhibitions and activities are frequently changed to keep everything new and exciting for regular visitors.
Chicago Botanic Gardens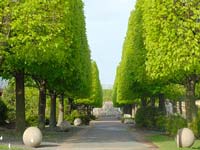 With plenty of wide-open space for kids to run around, the Botanic Gardens is one of Chicago's most beautiful attractions. During the summertime, travellers should be sure to explore the Rose Garden, where over 7,750 plants are in full bloom. A number of greenhouses, including a gorgeous orchid collection, can be explored in the gardens. There are also children's programmes available during the summer, as well as numerous fun events and exhibitions.
Chicago Loop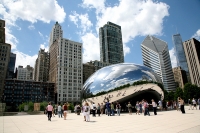 Stunning public art adorns downtown Chicago, created by world-renowned artists such as Pablo Picasso, Joan Miro, Alexander Calder, Marc Chagall, Henry Moore, and David Smith. Numerous walking tours of the Loop are available, with the Chicago Loop Alliance offering some free tours. Exploring the Loop includes some of the city's best-known works of art, including the Art Institute of Chicago, Millennium Park, the Aon Center Plaza, Thompson Center, Daley Center, Chase Plaza, Federal Plaza, the Chicago Board of Trade Building, and the Willis Tower (Sears Tower). Joining a tour is a great way to see the most scenic parts of the downtown Chicago Loop, although it is also fun to venture independently to the main artistic landmarks.
Buckingham Fountain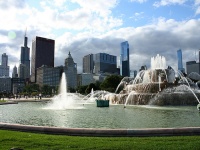 Often referred to as the city's front yard, Buckingham Fountain is one of the Chicago's most popular attractions. Located alongside Millennium Park and the Art Institute of Chicago in Grant Park, the fountain used to be the official starting point of the celebrated US Route 66. Donated to the city by Kate Buckingham on 26 August 1927 in memory of her brother Clarence, the fountain represents Lake Michigan and each sea horse symbolises a state bordering the lake. Water shows run every hour on the hour and last for 20 minutes. The last show of the night is at 10pm.
Magnificent Mile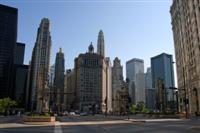 The stretch of Michigan Avenue in Chicago that runs from Chicago River to Oak Street is known as the Magnificent Mile. Famed for its nightlife, it also serves as the main thoroughfare between Chicago's Loop business district and the Gold Coast. Visitors will love discovering what the Magnificent Mile has to offer, from more than 460 exclusive stores and boutiques, to more than 200 restaurants. There is also historic architecture to be admired on a boat or trolley tour, including the Wrigley Building and 875 North Michigan Avenue (known locally as the John Hancock Center). Visitors can indulge in a deep dish pizza, stroll past media houses such as the Chicago Tribune newspaper, enjoy the local street performers, firework displays, or watch the Magnificent Mile change with the seasons.
Route 66 Sign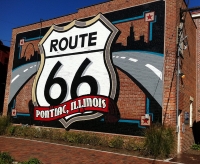 The world-famous Route 66 is colloquially known as the 'Main Street of America' or the 'Mother Road'. This is because it originally ran from Chicago through Missouri, Kansas, Oklahoma, Texas, New Mexico, Arizona, and California, before ending in Los Angeles. The stretch of highway has been immortalised by famous singers such as Nat King Cole and even the Rolling Stones. The starting point in Chicago has moved a few times over the years and in 1933, the start (and end) was moved to Jackson and Lake Shore Drive. The starting point remained here, so even while Adams Street at Michigan Avenue is marked as the starting point, Route 66 has never departed from there. The recognised end of Route 66 is located at the intersection of Jackson Boulevard and Michigan Avenue (which is marked as the terminus). This landmark is a pilgrimage site for those interested in the pop culture of America.
Chicago History Museum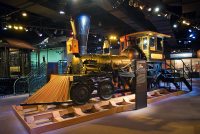 Chicago has a colourful and fascinating history, ranging from devastating fires to gangster assassinations. The Chicago History Museum represents this history through an intriguing collections of artefacts from the city's past. This includes the first passenger car to operate on the Chicago L system, Michael Jordan's Chicago Bulls jersey, and seemingly every postcard ever made of Chicago. The admission cost includes an audio guide to help visitors make sense of all the exhibitions. The permanent collection is more than sufficient to capture the imagination, but the museum does also host regular temporary exhibitions and special events.
Chicago Beaches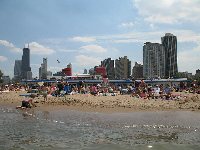 While Chicago is not well-known as a beach holiday destination, its position on the shore of Lake Michigan gives the city access to an extensive network of waterfront recreational areas. There are over 26 miles (42km) of open and free lakefront to enjoy. These include popular spots such as Oak Street Beach and North Avenue Beach, the most fashionable places to see and be seen while enjoying the sun of a Chicago summer. The Rogers Park Beaches are also excellent: Howard Beach has a playground for children, while Pratt Beach offers tennis courts and jogging paths. Kathy Osterman Beach (formerly Hollywood Beach) is a great place for beach volleyball and has child-friendly shallow waters at the north end.
Climate
Chicago has an extreme continental climate with very hot summers and bitterly cold winters, its lakeside setting only slightly moderating the temperatures and adding some humidity to the atmosphere.
Chicago has distinct seasons, with a short spring, when temperatures are moderate and nights frosty. Summers are hot, sunny and humid, from June to the end of September, and are prone to thunderstorms. The daily average high in July is around 84F (29C). August is usually the wettest month of the year.
Autumn is a lovely time of year when the air is crisp and cool, with blue skies and sunshine. Winters (December to February) in Chicago are icy and prone to cold, harsh winds, with temperatures averaging between 32F (0C) highs in the afternoons and around 14F (-10C) lows at night. Snow is common.
Jan
Feb
Mar
Apr
May
Jun
Jul
Aug
Sep
Oct
Nov
Dec
Rain (cm)
48
42
72
97
85
92
89
117
83
68
76
61
Rain (inches)
1.9
1.6
2.8
3.8
3.4
3.6
3.5
4.6
3.3
2.7
3.0
2.4
Average Temperature (°C)
-5
-3
3.5
9.5
15.5
21.5
24
23
19
12.5
5
-2
Min Temperature (°C)
-9
-7
-1
4
10
16
19
18
14
7
1
-6
Max Temperature (°C)
-1
1
8
15
21
27
29
28
24
18
9
2
Average Temperature (°F)
22.5
26.5
38
49.5
60.5
70.5
75
73
65.5
54.5
41.5
28
Min Temperature (°F)
15
19
30
40
50
60
66
64
56
45
34
21
Max Temperature (°F)
30
34
46
59
71
81
84
82
75
64
49
35
Chicago O'Hare International
Chicago O'Hare is located 17 miles (27km) northwest of Chicago.
Tel: (800) 832 6352
www.flychicago.com
Facilities
Facilities at the airport include restaurants, bars, shops, duty-free shopping, bureaux de change, a bank, and ATMs. The Hilton Health Club provides a health club, sauna, steam room, and massage. There is a medical centre, baby-change facilities, a play area, and a 24-hour interfaith chapel. There are also many airport art exhibits to view as well as the Urban Garen, the first aeroponic garden in the world.
Car Parking
Facilities at the airport include restaurants, bars, shops, duty-free shopping, bureaux de change, a bank, and ATMs. The Hilton Health Club provides a health club, sauna, steam room, and massage. There is a medical centre, baby-change facilities, a play area, and a 24-hour interfaith chapel. There are also many airport art exhibits to view as well as the Urban Garen, the first aeroponic garden in the world.
Car Rental
Companies represented at the airport include Alamo, Avis, Budget, Hertz, and National.
Taxis
There are plenty of metered taxis outside, and a taxi to the centre of Chicago takes approximately 30 to 45 minutes and costs about $40. But be prepared to pay twice as much during rush hour.
Transfer terminals
A free automated rail system, the Airport Transit System connects all terminals.
Transfer City
Blue Line trains run every few minutes between the airport and downtown Chicago 24 hours a day; the journey takes around 50 minutes. For safety reasons travellers are advised against using the Blue Line at night. Travellers can also use the Pace bus service to get to downtown Chicago. Taxi ranks are situated outside the arrivals hall in each of the airport terminals; the fare is around $40 for the 30 to 45 minute journey from the airport to downtown Chicago.
Chicago Midway Airport
The airport is located eight miles (13km) from downtown Chicago.
Tel: +1 (773) 838-0600. Email: aviation@flychicago.com
flychicago.com
Facilities
The airport offers restaurants, cafes, gift shops, a business centre, yoga room, ATMs and a chapel.
Car Parking
The airport offers restaurants, cafes, gift shops, a business centre, yoga room, ATMs and a chapel.
Car Rental
There are several car rental agencies based at Chicago Midway.
Taxis
There are taxis available from the airport lower level to downtown Chicago or any other destination.
Transfer City
Passengers transfering to Chicago can rent a car, or hire a limo or taxi. The Chicago Transit Authority's Orange Line runs from the airport to downtown Chicago. There are also bus services from the airport to throughout the city. The Continental Airport Express has door-to-door service on shuttles leaving every 15 minutes.
See map bigger