United States of America > Orlando Overview
The most famous resident of this central Florida city is Mickey Mouse, the cartoon creation of animated movie tycoon, Walt Disney. His vision has turned Orlando, and the adjacent Lake Buena Vista and Kissimee areas, into the world's busiest, biggest and best-known concentrated tourist paradise. Disney bought up land in the area with the aim of establishing his dream theme park back in the 1960s. He died before the first park, the Magic Kingdom, officially opened in 1971. But his legacy lives on. Currently the Disney empire in Orlando includes four theme parks, dozens of smaller attractions, thousands of hotel rooms and holiday apartments, hundreds of restaurants and snack bars, and even four cruise ships.
It is not only the Disney dazzle that draws visitors to Orlando. There are plenty of other attractions, such as Universal Studios, Discovery Cove, and the beloved SeaWorld, all adding to the maelstrom of thrills this city is now renowned for.
Getting Around
Anyone staying at a Disney resort or official Disney hotel need have no fears about getting around the Orlando magic kingdom. An unlimited, free transportation network with buses, monorails, ferries, and water taxis connecting all the parks and attractions before, during, and for a couple of hours after opening hours. The I-Ride Trolley operates exclusively in the busy International Drive resort area; various passes are available. Those wishing to take a break from the world of Disney and travel elsewhere are advised to hire a car, particularly during peak holiday seasons when buses are likely to be crowded. Mears Transportation runs a bus service covering all Orlando's surrounding attractions, even as far away as Busch Gardens in Tampa. There are also free shuttles linking some of the theme parks, including SeaWorld Orlando and Busch Gardens in Tampa. Taxis queue for passengers in front of most of the resorts in the area; they can also be ordered by telephone. However, taxi fares tend to be high. Travellers can also rely on Uber of Lyft.
Restaurants
}

Floridian food is a melting pot of flavours, spices, and sensations. The food of Orlando represents its cultural diversity, with restaurants serving old American classics as well as fusion cuisine with strong Caribbean and Spanish influences. From fast food to fine dining, Orlando has it all.

'Floribbean' cuisine incorporates flavours and styles from the neighbouring Caribbean islands, Cuba, Trinidad and Tobago, and even the American Deep South. As a result, dining out in Orlando is an experience for the senses. Seafood is a staple, so visitors should sample signature dishes such as muscles in rum and butter sauce, fried gator bites, and roasted red snapper.

Travellers can head down International Drive to choose from some of the trendiest restaurants in town, or spend some time in Downtown Disney or Universal's CityWalk, where more traditional cuisine is provided. With so many options, diners will be spoilt for choice when it comes to eating in Orlando.
Shopping
There is no shortage of shopping opportunities for travellers in Orlando and, with a choice of luxury department stores, upscale boutiques, antique shops and farmers markets, shoppers will have a hard time deciding where to begin. Many hotels offer free shuttle services to major shopping destinations.
Travellers can start off at one of the largest single-storey malls in the United States, the Florida Mall, which features more than 250 stores including Macy's, Sears, JCPenney, Nordstrom and Saks Fifth Avenue as well as an outdoor shopping plaza where shoppers can enjoy all those sunny days. The Waterford Lakes Town Center is an open-air mall featuring large chain stores, small shops, restaurants, and even IMAXDigital. And the Mall at Millenia boasts designer names such as Betsey Johnson, Chanel, and Louis Vuitton.
Antique junkies need look no further than Orlando's Antique Row on Orange Avenue, where a wide variety of collectables can be found. Of course the main souvenirs in Orlando are anything Disney or NASA-related, so visitors should pick up caps and t-shirts from the gift shops before they leave.
Sightseeing & Attractions
Sightseeing
Famed for one of the US's most popular attractions, Walt Disney World, Orlando boasts many other noteworthy attractions besides the iconic Magic Kingdom. Travellers should head a little further into this Floridian city to discover Universal Studios, its two theme parks, entertainment complex, and film sets. Those visiting during the summer should check out wet 'n Wild, while Sea World has earned itself a reputation as one of the best marine parks in the world for more than 25 years.
Florida's second most popular attraction is the Kennedy Space Centre at the nearby Cape Canaveral. Visitors can walk through a giant model of the new International Space Station, view authentic rockets, and marvel at all the original artefacts from the moon landing.
The Orlando Museum of Art is a must for fans of fine arts, while adrenalin junkies should make a pilgrimage to the NASCAR Daytona Speedway. For something a little stranger, visitors should look no further than Ripley's Believe It or Not, where exhibits of weird and wonderful things, amassed over a period of 40 years by explorer Robert Ripley, can be viewed.
Travellers planning on extensive sightseeing should consider buying a Go Orlando Card, which grants free entrance to various attractions as well as providing a full-colour guide book with in three, five or seven day sightseeing options. Go Cards are available at the Official Visitor Centre or Festival Bay Mall.
Kids Attractions
Being the home of Mickey Mouse, it goes without saying that Orlando is one of the most popular holiday destinations for families travelling with kids. With plenty of sunshine and attractions as Sea World, Walt Disney World, and Universal Studios, Orlando is a children's playground and very often tops the list of places kids would most like to visit.
Universal Studios is great for older kids too, as there are plenty of thrilling blockbuster-themed rides to enjoy, as well as games and other interactive activities. The 'littlies' can enjoy Fieval's playground, Woody Woodpeckers Nuthouse Coaster, and a 'Day in the Park with Barney', a live stage production where younger children can sing along to their favourite songs. Kids will also love a visit to Gatorland, a theme park and wildlife preserve that is nicknamed 'the Alligator Capital of the World', where thousands of crocodiles and alligators can be viewed from a boardwalk suspended above the marshy swamps below.
The family can enjoy a historic and educational tour of the Kennedy Space Centre; spend the day hiking and picnicking in the Turkey Lake Park; check out what's happening round Lake Eola, or simply let the kids run around in the nearby playground while parents take a breather.
With all these options and more, kids will have a fabulous time on holiday in Orlando, but parents should note that during the spring and summer months, the main tourist attractions and theme parks are heaving with visitors and a better time to visit Orlando may be during the slightly cooler months of autumn or winter.
Attractions
Walt Disney World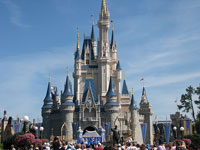 Orlando's most familiar landmark is undoubtedly the turreted Cinderella Castle that stands in the centre of the original Disney Florida theme park, the Magic Kingdom. Walt Disney World opened in 1971 and has been making dreams come true ever since. Today it is just one of four Disney parks that cover more than 28,000 acres of Orange and Osceola counties in central Florida, with accompanying resorts, shopping complexes, hotels, and waterparks. Apart from the Magic Kingdom, Disney World now includes the Epcot centre, Hollywood Studios, and Animal Kingdom. It also contains two water parks; Disney's Blizzard Beach and Disney's Typhoon Lagoon. The Magic Kingdom is where the most famous Disney attractions are located. Little girls can visit the Bibbidi Bobbidi Boutique to receive princess makeovers, while boys can become ferocious swashbucklers at the Pirates League. Rides at the Magic Kingdom include classic favourites such as Space Mountain, the Haunted Mansion, and It's a Small World. Disney's Hollywood Studios gives visitors a behind-the-scenes glimpse at the workings of the glitz and glamour of the movie industry, while Animal Kingdom wildlife park is home to more than 1,700 animals from 250 species.
SeaWorld Orlando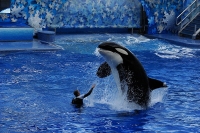 Spread out between the Disney parks at Lake Buena Vista and downtown Orlando area is the renowned SeaWorld attraction. The park is designed to give an interactive look at the sea, featuring themed animal habitats from tidal pools to iceberg lakes. Visitors can hug a dolphin, kiss a killer whale, and watch the famous aquatic SeaWorld stars go through their paces in various entertaining shows. SeaWorld is not only well-known for its exciting animal encounters and epic rides. Visitors should be sure to enjoy Mako, the tallest, fastest, and longest roller coaster in Orlando. It reaches speeds of up to 73 miles per hour (117km per hour) on an impressively long steel track, leaving riders feeling both breathless and weightless. Neighbouring Discovery Cove offers visitors a chance to swim with dolphins, view wildlife, sunbathe on gorgeous beaches, and snorkel among the coral.
Universal Studios Florida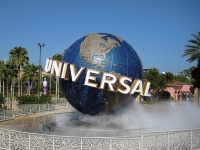 The delights that the Universal Orlando entertainment complex has to offer are so numerous that it takes at least two days to fully appreciate. There are two theme parks: the Islands of Adventure and Universal Studios. Universal Studios is a movie-themed park with thrilling, innovative rides, production studios, and film sets, where visitors can go behind the scenes and see the tricks used to create movie magic. Islands of Adventure offers thrilling rides, shows, and villages on five different islands all based on hit film classics.
Believe It or Not Orlando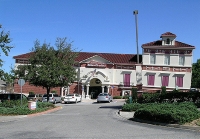 Housed in an odd-looking building that is tipped to one side and apparently sinking into the ground, Ripley's Believe It or Not Orlando contains a remarkable collection of weird and wonderful exhibits, amassed over a period of 40 years by explorer Robert Ripley. Examples of the exhibits are shrunken heads and a scale model of a Rolls Royce made entirely of matchsticks. Visitors can measure themselves up against the world's tallest man and learn about all sorts of odd and surprising records. Ripley's 'Believe it or Not' collection is world-renowned and has been documented in television series and best-selling books.
Orlando Museum of Art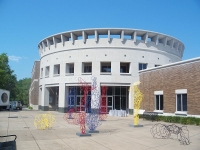 Orlando's Museum of Art is a world of creative themed exhibitions, showcasing its permanent collections of American Art, Art of the Ancient Americas, and African Art. Group tours are made memorable with commentary about art appreciation and the lives of the various artists represented. The museum's collection is extremely varied, covering a number of time periods, artistic schools, and movements. Visitors should note that the museum is closed on Mondays.
Fantasy of Flight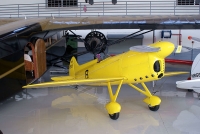 Midway between Tampa and Orlando, about 20 minutes drive west of Walt Disney World, the Fantasy of Flight resort is billed as the world's greatest aircraft collection. The attraction began as a vision of aviation enthusiast and historian, Kermit Weeks, as a tribute to the pioneers of flight, and today it features many rare and vintage aircraft, which actually take to the skies. Visitors are treated to an 'Aircraft of the Day' flypast, as well as the chance to fly themselves in a simulator. The site also offers tours of the aircraft collection in hangars, a sight and sound presentation detailing the history of aviation, a tour of the 'back lot' where vintage aircraft are restored, and an Exploration Centre.
SeaWorld Aquatica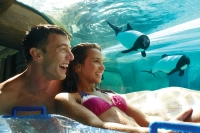 Look no further than SeaWorld's Aquatica for exhilarating water slides, wave pools, and once in a lifetime encounters with sea animals. There are a multitude of thrill rides to enjoy in this water park as well as other varied attractions, ensuring the whole family stays entertained. Visitors can experience an educational ride through an undersea world to see the sea life below, or they can revel in an adventure-fuelled race against the rapids. With so many rides and slides to choose from, this water world will leave any visitor delighted, and soaked!
The signature ride, Reef Plunge, features slides that shoot riders through a pool of Dolphins. For the real adrenalin junkies the most fast-paced ride of all is Ihu's Breakway Falls, a watery free-fall drop slide. Whether visitors are after relaxation or adrenalin, SeaWorld's Aquatica is great fun for the whole family. The park is open daily all year-round, but opening and closing times do change according to season.
Kennedy Space Center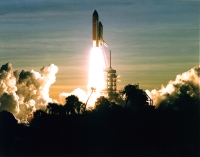 The John F. Kennedy Space Center at Cape Canaveral, 46 miles (74km) southeast of Orlando on Florida's east coast, is one place in the state where fact is just as entertaining as fiction. Visitors to the centre follow the story of NASA's exploration of space through interactive exhibits, movies, and tours. Guests can tour a full-size replica of the space shuttle 'Explorer', walk through a giant model of the International Space Station module, and view films about Mars and the Pathfinder exploration. They can also explore historic authentic rockets, such as the craft piloted by pioneer astronaut John Glenn, and marvel at the Apollo-Saturn Centre, which houses all the artefacts from the historic moon landing. The Space Center requires several hours to fully appreciate. On the same site is the Merritt Island National Wildlife Refuge, established on the land NASA did not require for its space operations. The 220-square-mile (570 sq km) refuge contains more endangered species than any other wildlife refuge in the US, including the southern bald eagle and Atlantic loggerhead turtle. Visitors should not skip the US Astronaut Hall of Fame as they leave the area.
Discovery Cove Orlando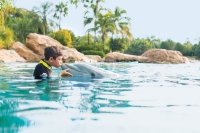 Discovery Cove is an exquisite tropical island paradise. In recent years, Discovery Cove has supplanted its sister park, SeaWorld, as the premier marine theme park in the state of Florida, but the competition remains steep and many travellers choose to visit both. What makes the experience of visiting Discovery Cove so unique is the level of interaction that it offers: guests can swim with bottlenose dolphins, snorkel alongside a coral reef teeming with exotic fish, unwind on pristine sandy beaches, and hand-feed tropical birds in a free-flight aviary. It is even possible to wade in the welcoming Freshwater Oasis, coming face-to-face with playful otters and curious marmosets in the lush landscaping. The combination of relaxation and adventure is glorious.
Wizarding World of Harry Potter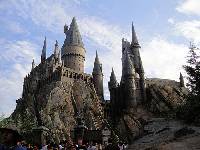 The magical theme park is located at Islands of Adventure and allows visitors to enter their favourite scenes from the films, including the Hogwarts Express, Hogsmead village, Zonko's Joke Shop, and Diagon Alley. It also has thrilling rides such as the Flight of the Hippogriff and Dragon Challenge. Children can visit Ollivander's to find their perfect wand, or sample chocolate frogs and Bertie Bott's Every-Flavour Beans at Honeyduke's sweet shop. The attraction is wildly popular and fun for the whole family, but visitors should bear in mind that queues can be exceptionally long at peak times. Harry Potter fanatics give the park rave reviews, but even those who are unfamiliar with the wizarding world will be enchanted by the park.
Gatorland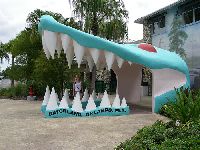 Florida is famous for its alligator population, and Gatorland in Orlando is a good place to experience these interesting animals. The park is home to thousands of alligators and crocodiles, with a breeding marsh with boardwalk and observation tower, reptile shows, an aviary, petting zoo, swamp walk, and educational programs. A huge thrill is provided by the Gator Zip Line, which allows brave visitors to the park to zoom about high above the enclosures. Gatorland has several restaurants and even offers a gluten-free menu. Visitors can enjoy the whole park at a leisurely pace in about four hours, but a family can easily spend longer time enjoying the various attractions.
The Holy Land Experience
Vastly different from most theme parks in Orlando, the Holy Land Experience is a religious attraction designed to recreate pivotal scenes from the Bible. These include settings such as the Great Temple, the Last Supper Communion, and a Jerusalem Street Market. Staff members re-enact stories from the life of Jesus, and large-scale productions are staged in the Church of all Nations auditorium. The park is designed to be spiritually motivating and a visit can be moving for the religiously minded. The Holy Land Experience is far more about the story of Jesus than it is a genuine recreation of Jerusalem, but the replica temples and ancient streets help to bring the story to life and set the scene.
Climate
Orlando experiences holiday weather all year, with temperatures typically ranging between 52F (11C) in mid-winter and 91F (33C) at the peak of summer, with a humid, subtropical climate. Summer temperatures can be uncomfortably hot in August, and winter is dry and temperate, with night time temperatures occasionally plunging surprisingly low. Thunderstorms are common between May and September, offering some respite from the heat. Summer is hurricane season, between June and November.
Jan
Feb
Mar
Apr
May
Jun
Jul
Aug
Sep
Oct
Nov
Dec
Rain (cm)
56
84
93
64
76
166
207
183
174
95
44
54
Rain (inches)
2.2
3.3
3.6
2.5
3.0
6.5
8.2
7.2
6.9
3.7
1.7
2.1
Average Temperature (°C)
15
16.5
19
21.5
25
27
28
28
27
24
20
17
Min Temperature (°C)
9
10
13
15
19
22
23
23
22
19
14
11
Max Temperature (°C)
21
23
25
28
31
32
33
33
32
29
26
23
Average Temperature (°F)
60
61.5
66.5
71
77
81
82
82
81
75.5
67.5
62
Min Temperature (°F)
49
50
55
59
66
72
73
73
72
66
57
51
Max Temperature (°F)
71
73
78
83
88
90
91
91
90
85
78
73
Orlando International Airport
The airport is situated six miles (10km) southeast of Orlando.
Tel: +1 407 825 2001
www.orlandoairports.net
Facilities
Passenger services at the airport include ATMs, currency exchange, information centres, an interfaith chapel, and postal services. There are a wide variety of bars, restaurants, and shops, including duty free. The Kennedy Space Center, Disney, Universal Studios, and Sea World all have their own branded shops.The terminal top parking garage is one of the highest points in Orlando, providing a clear view of downtown Orlando and its nightly fireworks display. Facilities for the disabled are good; those with special needs should contact their airline in advance.
Car Parking
Passenger services at the airport include ATMs, currency exchange, information centres, an interfaith chapel, and postal services. There are a wide variety of bars, restaurants, and shops, including duty free. The Kennedy Space Center, Disney, Universal Studios, and Sea World all have their own branded shops.The terminal top parking garage is one of the highest points in Orlando, providing a clear view of downtown Orlando and its nightly fireworks display. Facilities for the disabled are good; those with special needs should contact their airline in advance.
Car Rental
Numerous major car hire companies are represented at the airport, including Alamo, Avis, Budget, Dollar and National. The rental car companies are located on the A-Side and B-Side of the terminal on the Ground Transportation Level (Level 1).
Taxis
Taxis are available on Level 1 on both the A and B sides of the Main Terminal, and may carry up to nine passengers with metered rates. On average a one-way trip will cost $14 to $18.
Transfer terminals
Terminals A and B are within the same builiding. The crossing between the terminals is on level 3.
Transfer City
Public transport facilities are to be found on the Ground Transportation Concourse on Level 1 of Terminal 1. Lynx buses numbers 11, 42, 51, and 111 depart around every 30 minutes, between 5.30am and 10.30pm, for downtown Orlando, the trip taking about 40 minutes and costing $2. Many hotels provide free shuttles for guests. Taxis are available on Level 1 on both the A and B sides of the Main Terminal, and may carry up to nine passengers with metered rates. Cruise passengers may also check with their cruise line, as some offer direct transfers to the port.
Orlando Sanford Airport
The airport is located 22 miles (about 35km) northeast of Orlando.
Tel: +1 407 585 4000
www.orlandosanfordairport.com
Facilities
Facilities include ATMs, bureaux de change, restaurants and cafes, WiFi, and the Royal Palm Lounge.
Car Parking
Facilities include ATMs, bureaux de change, restaurants and cafes, WiFi, and the Royal Palm Lounge.
Car Rental
Car rental companies include Alamo, Avis, Budget and Hertz.
Taxis
Taxis are available outside the arrivals area.
Transfer terminals
A shuttle bus service connects terminals A and B.
Transfer City
Lynx bus serves the airport, stopping right outside the terminal buildings.
Departure Tax
None.
See map bigger
Getting out and about
Universal 2 Park Pass from £155 per person
Experience the excitement of two amazing theme parks. Explore more of Harry Potter's world than ever before in The Wizarding World of Harry Potter™ - Hogsmeade™ and Diagon Alley™. Join the battle on TRANSFORMERS: The Ride-3D. Join the ranks of the Minions on an unpredictable 3-D ride: Despicable Me Minion Mayhem.
Walt Disney World from £340 per person
Imagine six fantastic Disney Parks, two exciting night-time entertainment districts, and a state-of-the-art sports complex. Now add in over 20 themed Resort Hotels, plus countless opportunities for dining, shopping and recreation, and it's easy to see why Walt Disney World Resort is the number one holiday destination in the world.